I'm on a gossip blog detox. And let me tell you how lovely life has been. Minding one's own business and keeping your opinions for paid columns is a beautiful thing. But chile, it's only Sunday and folks have really tried it.
I'm pretty much done with Halloween. Yes, for like, ever. It's become covert racists' favorite pastime. The holiday's only saving grace is the kiddies who dress up like André Leon Talley and grapes made from balloons. Chicks like Julianne Hough ruin it for everybody. The former "Dancing with The Stars" contestant  must've thought it was a brilliant idea to don blackface this year by dressing up as Crazy Eyes from Netflix's hit series "Orange Is The New Black." I'm unsure how no one on her team thought, 'This is a bad idea.' Or told her she could pull off the costume without, I don't know, NOT DOING BLACKFACE.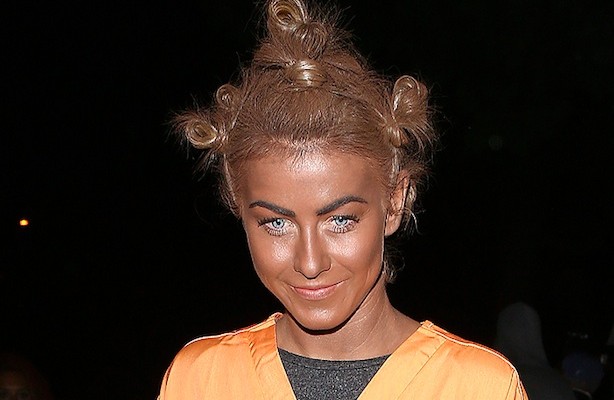 Think pieces galore are written like clockwork around Halloween time outlining what's offensive. Every single year these lists explain, in detail, why mocking someone's ethnicity or culture is offensive. Every year the articles nearly beg the clueless to not dress up in blackface and Indian garb. And every year folks do it anyway. It really isn't Neuroscience, people. Since we live in such a disposable society many offenders know they can do something offensive, apologize and people will have moved on to something new within 24 hours. It's precisely why I don't care about the apologies when racist celebs do racist things. Acknowledging you've done something offensive or racist is necessary, but I'm more interested in whether or not the lesson was learned. Does Hough really understand the history of blackface and why it's offensive? If not, she can keep her apology. Black people are exhausted from the blatant racism we experience or see every single day. When the racism itself isn't enough to drive us mad, we're told to "lighten up" or worse, "stop playing the race card," to which we think, 'Get a gotdamn clue.'
Speaking of clues, I can assure you Dumb, Dumber and Dumbest have not an ounce of a clue. William Filene and Greg Cimeno thought it was slap-your-knee funny to dress up as Trayvon Martin and George Zimmerman. Do you know what kind of person you have to be to think this is a joke worthy of laughter? Racism aside, who comes up with the idea to dress up as a dead kid? Racists, that's who. Imagine if two black guys decided to dress up as one of the dead kids from Sandy Hook and Adam Lanza. They'd certainly be in the unemployment line by Monday.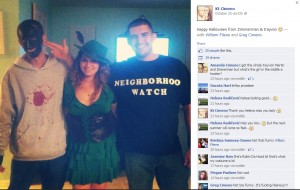 Chick standing between Dumb and Dumbest (Kt Cimeno) is no innocent bystander. Little Miss Racist posted the picture on Instagram four times. She is one of the Internet's biggest trolls, dying of thirst. Her racism runs deep. On FB she also posted a a picture of a little black girl sporting a 'Black Girls Rock' t-shirt, and basically wrote, "mommy lied to you." She then theorized on how it would be received if she had on a shirt that read 'White Girls Rock.' Our school system has truly failed Kt. Making such a comparison is asinine. I'm with whoever suggested making all three of them unhirable. Let Google cache haunt their little racist lives forever. What's truly infuriating is the reality that Sybrina Fulton and Tracy Martin will most likely hear about it. They'll be slapped in the face yet again with the gut-wrenching truth that Trayvon's gone, justice failed them and racists have turned his death into a despicable Halloween costume. Jesus wept.
Team Breezy can stay mad. I don't care. I've not been here for Chris Brown since he beat Rihanna to a pulp. Over the weekend the "Fine China" singer was arrested in D.C. on a felony assault charge for an alleged physical altercation with another man. He was in D.C. for Howard's homecoming to host a party. Since he's still on probation from physically assaulting his ex-girlfriend he could face up to four years in prison. He's being held without bail until Monday, October 28.
For all those who rallied behind I Can't Keep My Hands to Myself, is this too, the media's fault? Nope. It wasn't then and it isn't now. Chris' inability to control his anger is no one's fault but his. I also suspect drug use and a team of enablers who need him to maintain their lifestyles.
I never ranted against the media on his behalf (except when comedian Jenny Johnson verbally attacked him and played her privilege up for national media attention). I've never bought any of his "my life is so positive, I just want to focus on the music" campaigns either. Domestic violence is obviously something very personal to me, so it's safe to say I was never going to be a fan.  However, all of his run-ins/blowups/temper tantrums after the incident solidified what I felt. Chris is not a kid anymore who can chalk his mistakes up to being young.  He's a grown ass man who needs other grown ass adults—including his mother—to stop enabling him. Chris needs to get it together. He's burning and crashing; and as much as I'm not a fan, it's no fun to watch.  Therapy, isolating himself and getting prayed up is long overdue.
Jay Z. Where do I begin? Barneys NY is experiencing a PR nightmare, as they should. A black male college student was arrested for purchasing a $350 belt because the store clerk thought he couldn't afford it. NYPD hauled him off to a precinct assuming his debit card must have been stolen. They only let him go once the bank confirmed it was in fact his debit card. After the news of the first incident broke a black woman came forward accusing the police of questioning her after she purchased a $2,500 bag from Barneys. Racism still alive they don't even be concealing it. Word to Kanye. Old Kanye, not new Kanye.
It's the classic case of Shopping While Black that black people from every income bracket, region and pedigree know all too well.
Jay Z's partnership with Barneys has raised quite a few eyebrows. 12,000 have signed the Change.org petition started by Derick Bowers urging Jay to drop the partnership due to the store's racist practices. Apparently 25% of the proceeds made from the Barneys/Jay Z deal go to the Shawn Carter Foundation for college scholarships for underprivileged students. I hadn't really thought of Jay much because, well, I am more concerned with what Barneys plans to do to rectify their racial profiling and how the racist NYPD will be held accountable for their constant racial profiling. "I don't put much faith in celebs. Putting the pressure on Jay to drop his Barneys partnership undermines our own power collectively," I quickly tweeted.  "Do I wish celebs were more socially conscious? Absolutely. Have I long given up the idea that they should be? Absolutely." I fully understand the line of thinking in putting the pressure on Jay. I just don't expect that much from a man who raps, "I'm not a businessman/I'm a business, man."
Jay finally released a statement on  Life and Times and I remembered why Nas is the G.O.A.T. Dead ass. Jay's statement in full can be read here. But I'm rolling my eyes hard over this:
I move and speak based on facts and not emotion. I haven't made any comments because I am waiting on facts and the outcome of a meeting between community leaders and Barneys. Why am I being demonized, denounced and thrown on the cover of a newspaper for not speaking immediately? The negligent, erroneous reports and attacks on my character, intentions, and the spirit of this collaboration have forced me into a statement I didn't want to make without the full facts.
I cannot with your fave. His statement was incredibly unprofessional. The arrogance reeks through the page like the church deacon who wears cheap dollar store cologne. Jay does not handle public criticism well, and it shows. What other facts could he possibly be waiting on? The facts are: A black college student legally purchased a $350 belt and was arrested for being black. This is racial profiling. #Factsonly.
The problem with statements of this ilk is that it assumes the public is dumb. Although Mr. "Can I Live?" writes that he won't make a dime from the partnership, somebody/some entity is profiting. Believe that. There's 75% of funds not accounted for. All 75% could be going to Barneys, or the 75% could be dispersed between multiple parties, but essentially anyone who uses their hard earned dollars at Barneys for this initiative is monetarily supporting a company with racist practices. And Jay's failure to acknowledge that with such a flippant statement is where he fails as a celebrity FOR ME. This is exactly what the legendary Harry Belafonte was talking about. #teamHarryBelafonte.
I'm not advocating for Jay to drop his partnership. I think the onus should be on the racist salesclerk, Barneys NY and the NYPD. Jay could've kept this statement though. The facts are clear as day. To the "I don't react off of emotion" point, boy, bye. There's all kind of emotion in the "woe is me" pity party expressed by his questioning of why he's being demonized. Luckily, I was never a fan so I'm not left feeling disappointed. I stay woke. And while Jay is a great rapper, iconic even, he only sees green. Jay is a capitalist. Everything else will always take a backseat to his bottomline. Did I already say this is another reason why Nas is the G.O.A.T.? Ok. Just wanted to make sure I made that abundantly clear.