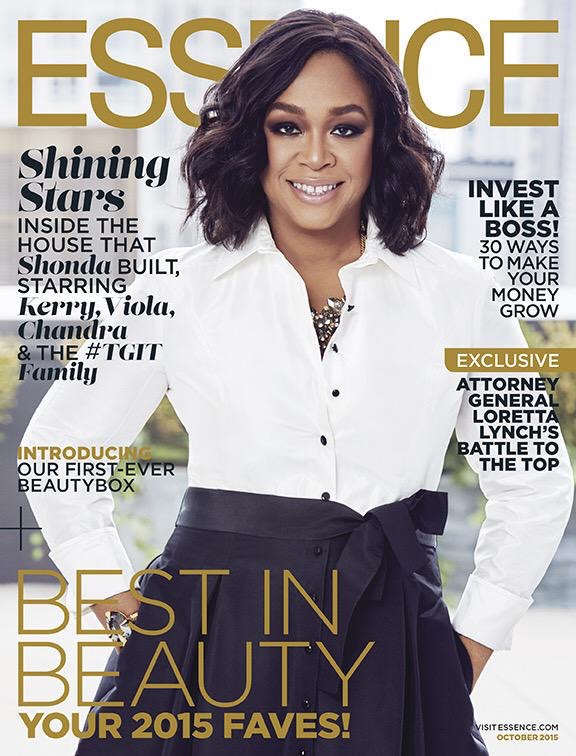 By now you've likely seen the news: I wrote my very first cover story. I say you've likely seen it not out of arrogance, but because it was an epic unveiling. "Good Morning America" exclusively revealed all six covers on September 10 at 8:30 a.m. I shamelessly tuned in. And DVRd. The cover story rollout took over my social media for an entire day. Literally. My mentions on Twitter were in shambles. I had no idea my announcing of it would be retweeted  by more than a handful of people, let alone by nearly 400. I received a boatload of Facebook requests (all of which I can't accept so please look for me here). My testimony on "doing the work" has 145 shares and 278 likes. Kerry Washington and Shonda and Viola and more reposted their covers on Instagram and Twitter. Joan Morgan who helped shape my feminism gave me an amazing compliment on FB. Ava DuVernay posted the covers and favorited my tweet. It was a day of magic. Not so much because of me, but because it was historic. In ESSENCE's 45 year existence they've never done six covers for one story. And that is the power of Shonda Rhimes, ladies and gentleman.
I won't rehash the "inspiring" and "you brought me to tears" backstory because the FB status is public and you can read it there. I want to take you behind the scenes of what it was like being in the presence of such #BlackExcellence in the opulent Palace Hotel in the Katz Jewel Suite for two days. From all accounts, it was the first time all three casts of Grey's Anatomy, Scandal and How to Get Away with Murder were in the same room. It certainly was the first group photo they'd taken for a magazine spread. Sure they see each other on red carpets in passing or at the ABC Upfronts — Upfronts is when networks announce their fall programming lineup. But the cast had never been together in this way.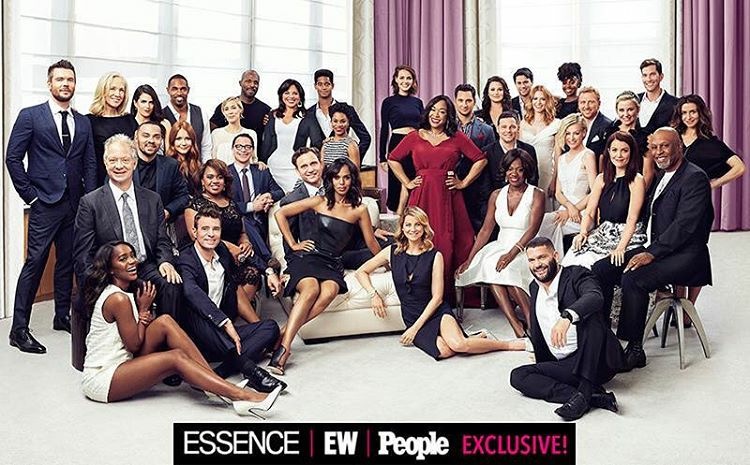 This photo was shared between ESSENCE, Entertainment Weekly and People. The camaraderie was apparent. The loving energy was palpable. These 35 or so people who all work under the Shondaland umbrella genuinely liked and respected each other. As you'll read in the piece, it's due to Shonda's "no asshole" policy that she's very serious about. There was lots of laughter. A lot of hugs. Basically a family reunion without the potato salad and electric slide.
The day after the group shot was all ESSENCE (read: all the Black folks). It was magical. I've been on magazine shoots before for stories like my Raisin in the Sun profile starring Diahann Carroll and Anika Noni Rose. But never a cover story shoot, and it was quite different than a package shoot. First of all, walking in to The Palace Hotel for two days (three if you include Viola's shoot) as a Black girl with blue hair felt so good. I felt the stares. I imagine many people wondered what could a Black girl with blue hair do for a living. I smiled at everyone with my head held high. The Jewel Suite is pure decadence. From the Martin Katz crystal chandelier to the spiral staircase to the decor. And the 54 stories skyscraper view is top-notch. It's a suite you wish you could afford so you could come back alone, or with a love, to enjoy a weekend staycation to pretend as if this is your real life. However, there's not much time to bask in the beauty of the suite. There's lots of movement and lots of waiting, too.
Tons of people are around. The celebrities. Their PR. The network's PR. Hairstylist. Wardrobe stylist. Barbers. Manicurist. Photographer. Beauty Directors. Creative Directors. And so on. I had 10 people to interview in one day. Viola Davis was interview number 11, but her shoot was scheduled for a different day. Interviewing 10 people in between hair, makeup, styling and their photoshoots sounds like pure chaos. Not to mention some of them are household names like Kerry Washington, Chandra Wilson and of course Shonda Rhimes. There's limited time because schedules are tight. However, I have zero complaints on how everything ran. It was a long, long day that ran smoother than a baby's bottom. The ESSENCE team along with ABC's PR helped me grab the actors as they were available. Everyone was so down to earth and chill. No egos. They were super personable. I can't tell you how many of the actors said, "Oh my god, I LOVE your hair!"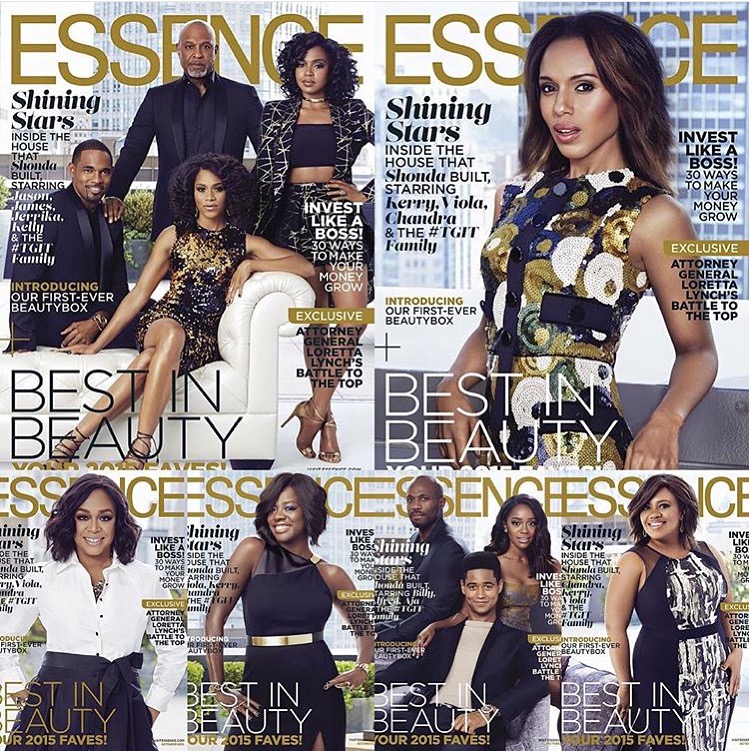 I was most nervous about interviewing Shonda Rhimes and Viola Davis. Shonda is the most powerful showrunner in television. And if you've read enough of her interviews or follow her on Twitter you know she is no-nonsense. A brilliant woman who is not here for anyone's foolishness. I was nervous about Viola for different reasons but nervous nonetheless. Shonda's warmness surprised me. She was genuine. You could tell why everyone under the Shondaland family praised her. It wasn't like two old girlfriends catching up, but it was two women — both writers — talking to each other with a respect and acknowledgment of their crafts. Viola was just as warm. Serious about what she wanted to convey, serious about the craft of acting, but nice. She dropped a really good gem about being yourself and how the status quo doesn't change because everyone in Hollywood is trying to be a version of someone else and no one speaks up.
Alfred Enoch who plays Wes in HTGAWM was funny with his delightful British accent. Aja Naomi King who plays Mikaela in HTGAWM is both gorgeous and just a good soul. We had the same "Love" tattoo. We had quite a few ki kis. And Jerrika Hinton who plays Stephanie Edwards on Grey's was a vibrant thing. Her personality lit up the room. She told this amazing story about Debbie Allen when I asked her the funniest moment of filming on Grey's. She responded:
Yes! Just this season, I can't remember what episode we were shooting, but it was group scene in the ER, nobody…For some reason something was happening. There was something in the air that day and we couldn't keep it together. Like, we were trying to do this really serious thing and this trauma comes in, and Kevin is yelling all these orders at us and we just keep cracking up. Nobody can hold it together and Debbie was directing that episode. After about five times Debbie just runs out and she's like, 'OKAY EVERYBODY, ONE, TWO, THREE, FOUR, FIVE, SIX, SEVEN, EIGHT. ONE, TWO, THREE, FOUR, FIVE…' And everybody, like everybody: crew, cast, everybody just jumps in 'ONE, TWO, THREE…' And she got it out of us. [Laughter]

And then you were ready to get back to work? I asked.

And then we could do it. That's the magic of Debbie Allen.
It's been a beautiful struggle. I'm already on to the next thing. People have moved on to the next topic. But I couldn't not recognize this moment for what it is. It is proof that doing the work matters. Believing in yourself matters. Never giving up matters. Not only does it matter, it produces results. It took me five years of professional writing to get here. I've written plenty for free. I've written some horrible things that I hope are scrubbed from the 'net. I still pitch ideas and never hear back from editors. I physically went to offices with my resume but couldn't get past security. I've emailed editors to set up coffee dates to no avail. I've paid my dues. It took me two years to land my first media job. I could write a book alone on that suffocating two year period. Since then I've suffered through two layoffs. But somehow I've kept writing and remained committed to the craft. I'm happy to be part of such a historic moment with my ESSENCE family. And even happier that my first cover star was a brown girl from suburban Chicago who is at the top of her field all because she "imagined things in her head" and with her words made them a reality.