Currently viewing the category: "Any & Everything"
Yesterday, I rushed to the city to meet with a guy of a well-known business. *John was very chilled, laid back and deeply passionate about the brand he worked for even with the picture of him w/the Vice President at the White House on his bookshelf. It was the most informal interview I'd ever had, [...]
Continue Reading

→
In July I wrote "The Hair Politics of Natural vs. Permed", a commentary article for Essence's website after growing tired of the divisive debate and natural hair roll call on Twitter. In the article I admit the topic has been discussed ad nauseum, and how unproductive that debate can be.  On [...]
Continue Reading

→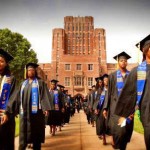 Per usual my daily morning routine is wake up, check my Blackberry, read emails, get on Twitter, turn on computer, read and write.
In doing research for today's post, which has now been postponed, I stumbled across an article titled "Black College Graduates Face Bumpy Roads" on the American Renaissance website. The [...]
Continue Reading

→
As a mid twenty something woman I could not imagine allowing my family to uphold dictatorship over my life.  Especially not for the purposes of adhering to the accepted norm of society or family tradition.
We come from two very different worlds, which I understood from the first day we met. But I didn't [...]
Continue Reading

→
[youtube=http://www.youtube.com/watch?v=btuRgzIaZso]
When the idea of creating a blog began floating around in my brain I vowed to be unique by dedicating my blog to things of substance. The blogosphere is already over-saturated with those celebrity/entertainment obsessive sites; and personally I think that ship has sailed. By no means am I knocking those sites as I [...]
Continue Reading

→